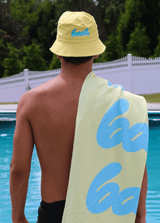 Bask Bucket Hat
Nothing signals more clearly that you're off the clock & the excessive open tabs on your browser don't bother you than this sunshine yellow terry cloth bucket hat. And if there's any confusion about your intention for the day, we've emblazoned it with the Bask logo in wavy baby blue. 
It's 5 o'clock somewhere, and that somewhere is wherever you are in this hat.
But is it functional? You bet ya. 360 degree shade for your front, side, and back. Not only that, it's vibrant, cute, and (according to our Gen Z interns) very trendy and instagrammable. Grab the Bask Terry Cloth Bucket Hat - our favorite piece of merch to date - while  supplies last.

Enter your email to be notified when this item comes back in stock.