SPF 30 Non-Aerosol Spray 3-Pack
Finally. A Non-Aerosol, Non-Oily SPF Spray.
Bundle and save 15%! Feels like pure sunshine and goes on like a breeze. Ensure three times the fun with a 3-pack bundle of our best-selling SPF 30 Non-Aerosol Spray. Smells like a vacation in a bottle, plus we never use chemical propellants like propane so there's always a reason to smile. Sprays from any angle: upside-down, sideways, any which way, so you can get every spot even on your own.

Enter your email to be notified when this item comes back in stock.
More Info +
Dermatologist Recommended, Safe for sensitive skin
Broad spectrum protection against UVA and UVB rays
Formulated to not stain your clothing
Spray ensures full-coverage from any angle
Non-Aerosol, free of chemical propellants
Zero White Cast
Tested For & Free of Benzene Contamination
Hawaii Reef-Friendly (Act 104)
How to Use +
Unlock the bottle by turning the cap a quarter turn. Spray along the body or face 15 minutes before sun exposure. Reapply after 80 minutes of heavy sweating and swimming. Remember to continuously apply at least every two hours when under the sun.
Ingredients +
Avobenzone 3%, Homosalate 7.5%, Octisalate 5%, Octocrylene 5%
Inactive Ingredients
Fragrance, SD Alcohol 40-B, Tocopheryl Acetate, VA/Butyl Maleate/Isobornyl Acrylate Copolymer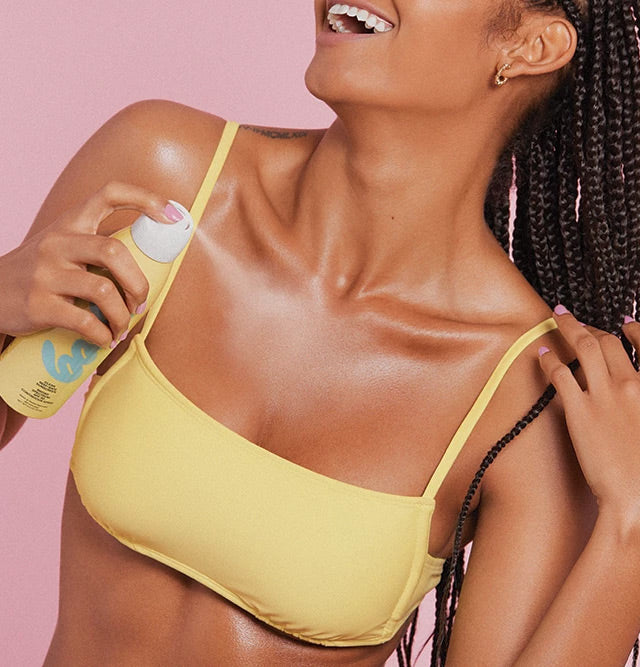 10% of all Bask purchases are donated to Skin Cancer Charities
What People Are Saying
"I'm a dermatologist, and I absolutely love this sunscreen. I love the packaging and the feel. It goes on very, very nicely! And it's the perfect spray. Will absolutely be recommending it to patients. Kudos!"
— Dr. Blair M., Southampton, NY  (Verified Buyer)
"Really like the fact that this is a non-aerosol option, and it's the best-smelling spray sunscreen I've tried. Really nice packaging when it arrived, too. Almost an experience opening the box, which is something I didn't expect from a sunscreen. Highly recommend trying - it'll be hard to go back to any other sunscreen!"
— Cristin, Manhattan Beach, CA (Verified Buyer)
"This spray really is the best-feeling sunscreen I've ever used, and I only buy from organic, clean brands! After a week in FL and applying this on the family every day often, not one of us had any reactions to it (and we all have very sensitive skin) and no one burned at all. The spray is a refreshing spray, and I love that it has a wide spray and you don't have to rub in afterwards. The spray catches a lot of your body so you don't have to worry about missed areas that happen from other sprays. I'll be a lifelong Bask customer now!"
— Jennifer Z., Atlanta, GA (Verified Buyer)
"Softens and protects my skin while smelling delicious! What's not to love!"
— Charlene F., US (Verified Buyer)


Lightweight, Non-Oily, Quick-Drying, & Zero White Cast
Hawaii Reef-Friendly (Act 104)
Bask in the Wild