SPF 30 Lotion
The World's Best Feeling Sunscreen.
"The first sunscreen I've ever been excited to reapply." - Allure

Bask smells like a vacation, and now you can take it on your vacation! 3.4 ounces of decadent, award-winning, TSA-compliant SPF 30 Lotion. Instead of mystery goop from the hotel gift shop or sketchy pharmacy, bringing Bask will ensure that you'll have at least a 5-star SPF experience.
It's the same lightweight formula you've come to know and love, but now she's got a passport and she's ready to fly ✈️🌎
Enter your email to be notified when this item comes back in stock.
Now TSA Compliant
More Info +
Bask SPF 30 Lotion was named to The Bazaar 100 List and won The Zoe Report Beauty Award for Best Sunscreen
Dermatologist Recommended, Safe for sensitive skin
Broad spectrum protection against UVA and UVB rays
Formulated to not stain your clothing
Water-based formula to elevate texture
Zero White Cast
Tested For & Free of Benzene Contamination
Aloe and Antioxidant-enriched to hydrate your skin
Goes on white and rubs in sheer (quickly!) so you never miss a spot
Hawaii Reef-Friendly (Act 104)
Light vanilla and coconut aroma to inspire a nostalgic yet elevated trip to your childhood
How to Use +
Apply sunscreen along the body or face 15 minutes before sun exposure. Reapply after 80 minutes of heavy sweating and swimming. Remember to continuously apply at least every two hours when under the sun.
Ingredients +
Avobenzone 3%, Homosalate 7.5%, Octisalate 5%, Octocrylene 5%
Inactive Ingredients
Acrylates/C10-30 Alkyl Acrylate Crosspolymer, Aloe Barbadensis Leaf Juice, C12-15 Alkyl Benzoate, Carbomer, Disodium EDTA, Ethylhexylglycerin, Fragrance, Hydroxypropyl Methylcellulose, Phenoxyethanol, Polyethylene, Polysorbate 20, Propylene Glycol, Sodium Hydroxide, Sorbitan Oleate, Theobroma Cacao (Cocoa) Seed Butter, Tocopheryl Acetate, Water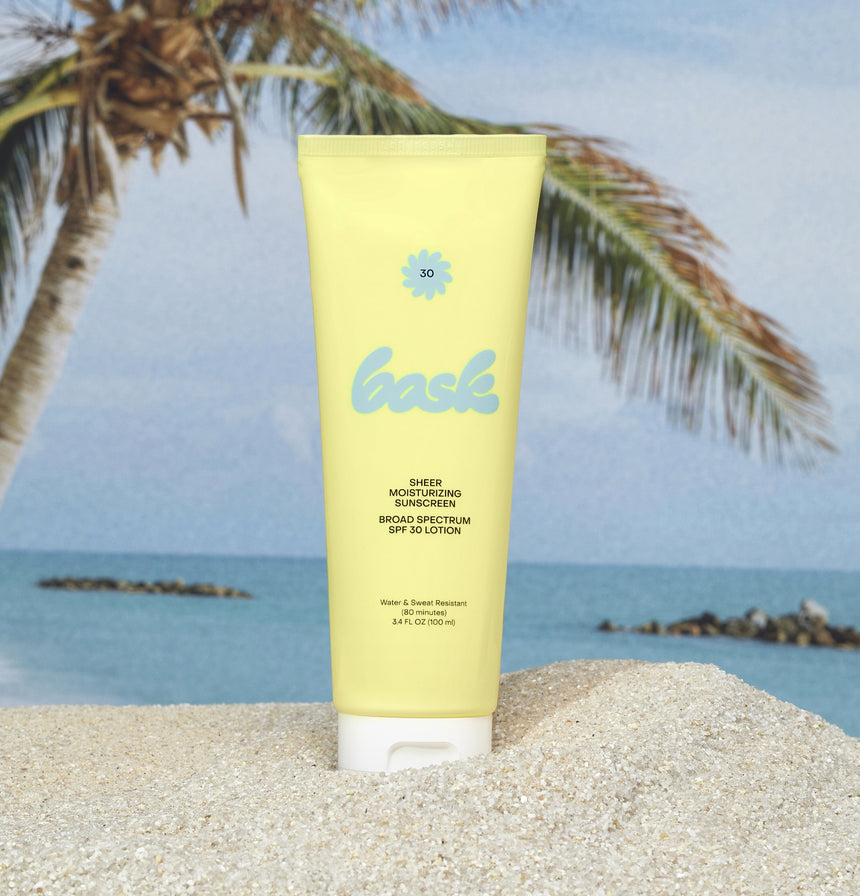 10% of all Bask purchases are donated to Skin Cancer Charities
What People Are Saying
"It's the only suntan lotion my 2 year old lets me put on him without screaming at me the whole time."
— Paul G., United States
"I'm a dermatologist, and I absolutely love this sunscreen. I love the packaging and the feel. It goes on very, very nicely! And it's the perfect spray. Will absolutely be recommending it to patients. Kudos!"
— Dr. Blair M., Southampton, NY  (Verified Buyer)
"Really like the fact that this is a non-aerosol option, and it's the best-smelling spray sunscreen I've tried. Really nice packaging when it arrived, too. Almost an experience opening the box, which is something I didn't expect from a sunscreen. Highly recommend trying - it'll be hard to go back to any other sunscreen!"
— Cristin, Manhattan Beach, CA (Verified Buyer)
"This spray really is the best-feeling sunscreen I've ever used, and I only buy from organic, clean brands! After a week in FL and applying this on the family every day often, not one of us had any reactions to it (and we all have very sensitive skin) and no one burned at all. The spray is a refreshing spray, and I love that it has a wide spray and you don't have to rub in afterwards. The spray catches a lot of your body so you don't have to worry about missed areas that happen from other sprays. I'll be a lifelong Bask customer now!"
— Jennifer Z., Atlanta, GA (Verified Buyer)
"Softens and protects my skin while smelling delicious! What's not to love!"
— Charlene F., US (Verified Buyer)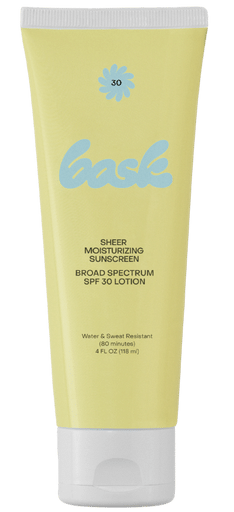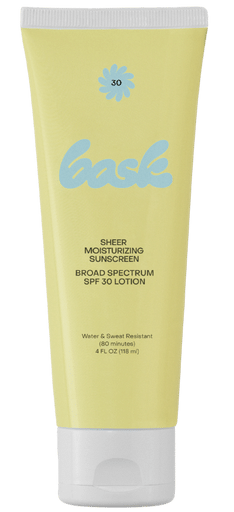 Lightweight, Non-Oily, Quick-Drying
Dermatologist Recommended
Bask in the Wild